YOUR STAY IN HOLIDAY COTTAGE IN LILLE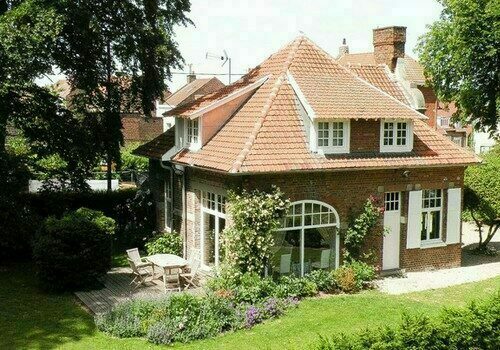 Are you looking for Holiday cottage in Lille for your next stay in the North of France? La Verdière is a haven of peace, made up of three independent charming cottages, which can accommodate up to 6 people each.
Located in the immediate vicinity of Lille (in Sainghin-en-Mélantois, 8 km), these furnished apartments offer you the opportunity to take advantage of the peace of the countryside while being near Lille to discover the region.
Each Holiday cottage in Lille "La Verdière" has its own history and identity. La Conciergerie is an authentic rural lodging, appreciated for its character and its comfort. This is the former concierge of the mansion La Verdière. Les Ifs are two contemporary rural lodgings with careful decoration, more modern but no less charming.
All three nestled in lush greenery, our tourist accommodation guarantees you a most relaxing stay in a lodge in Lille.
For a stay with family or friends, our ideally located furnished tourist accommodation adapts to all your desires: relaxing stay between nature and cultural discoveries, tourist circuit in Nord-Pas-de-Calais and Belgium ... unmissable places in the Lille metropolis, click here or go to the tourist office website to prepare your holidays in La Verdière.
Do not hesitate to contact us for more information, and enjoy an unforgettable stay in our lodgings in Lille.
THE COTTAGES OF LA VERDIÈRE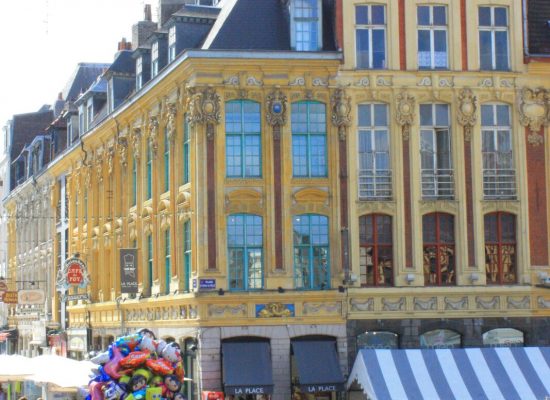 Visits to Lille & surroundings
Explore Old Lille, discover museums, retrace history through memory trails ... We give you ideas for visits.
CUSTOMER REVIEWS
vérifié
Merci pour cet accueil, le logement est propre et situé au calme bien qu'à proximité des commodités. nous reviendrons avec plaisir
vérifié
We came to visit Lille and wanted a quaint and quiet place a short journey to the centre, travel to Lille was around 20-30minutes with traffic which was further than we thought but to be expected on a busy weekend leading up to Christmas! The rooms were more spacious than expected and the property has a lovely garden which would be ideal in the summer, It is also on the corner from a beautiful bakery with lovely pastries, bread and sandwiches. Luc was in touch during our stay and easy to contact. Overall we really enjoyed our visit to France and staying at the Gite.
vérifié
Tout était parfait.
vérifié
Nous avons passé un agréable séjour dans cette maison très joliment décorée et située dans un petit écrin de verdure. La situation géographique de la maison permet de rayonner facilement sur Lille, Bruges….
vérifié
La Conciergerie is a beautiful place to stay. It was clean, comfortable and we made full use of the terrace and garden whilst the sun shone. We would definitely recommend the fabulous boulangerie/patisserie which is 2 mins walk away. Access into Lille centre was easy from the park and ride at 4 Cantons metro stop. We hired a car so didn't try out the buses.
vérifié
We had a lovely weekend at Luc's place. Well decorated and cosy home. A lot space for 6 people without feeling crowded at all. The garden layout is very relaxing. A lot of small shops (bakery, carrefour city) near by. We would recommended this place without doubts
vérifié
I have stayed at Luc's place for a business trip. I would definetly say that after hardworking day, it was a really pleasure to go to the garden and listen the sound of birds. On the other side, the house has well equipped. You can find everything what you need at the house. This is a place you might want to stay again.
vérifié
Great cottage,great host ,recommend !
vérifié
Everything is perfect like the pictures
vérifié
Loved our stay in this beautiful home. A peaceful location with a large backyard, outdoor seating for summer afternoons and the most comfortable beds! My family met here for a little reunion from Australia - having booked the place, I was very popular! They were blown away with how lovely the house and setting was. A short stroll into the nearby village and only 15 minutes into Lille centre. Couldn't recommend enough. We will be back!
recommande
Superbe endroit !!! Que ce soit la conciergerie, grande maison pleine de charme où les ift 1 & 2, maisons contemporaines, ce lieu sur Sainghin-en-Mélantois est à découvrir absolument pour de vraies vacances dans le nord comme à la maison !!! Nous y retournerons chaque année .... et pour la 7 ème fois en décembre ! Accueil très sympathique... lieu exceptionnel et proche de toutes commodités ! Je recommande vivement !
Edith Hasebrouck
2019-06-04
recommande
Beautiful and comfortable with all the amenities you could want in a home away from home. Loved the location, the market, the garden and friendly atmosphere. Comfort and class all in one! Would definitely stay here again!
Lindsay Ruth Embree
2017-05-11
Dario Cardona Milano
2017-03-31
Fabien Hennebo
2017-03-13
recommande
Magnifique endroit, à la fois classe, chaleureux et cosy... Le spa est incontournable et la table d'hôte délicieuse... Nous reviendrons c'est sur... Les petits belges... Véro et guy ...
recommande
We based ourselves here for our tour of the WW1 battlefields in northern France and the Fromelles centenary commemoration and also a trip to Ieper.
recommande
Nous avons passé un tres bel séjour en visitant du Canada. Merci!
Vincent Mulliez
2016-03-23
Ottimo posto per passare una vacanza,ma anche un periodo di lavoro 👍👍👍👍
Nous avons séjourné à la Conciergerie à l'occasion de retrouvailles familiales. Toute la famille s'est sentie attendue et très bien accueillie. C'est un lieu chaleureux et raffiné. Tout est très bien équipé et très propre. Un grand merci aux propriétaires et tout le personnel en charge de l'entretien. Merci pour la gentillesse de Madame Wattel.
Quentin Schmitz
2019-06-04
We are genuine guests who stayed at your beautiful home last year. It was a real home from home,having everything we could wish t use . Since we were back staying in France, from our new home in Australia ,we wanted something comfortable and convenient for visiting family. We also wanted to invite friends for lunch and this was possible due to the lovely gardens and spacious living area. We highly rate this accommodation. Definitely five stars.
Fiona Henneuse-Blunt
2019-01-29